Home of the Giant Wētāpunga
Did you know that Butterfly Creek is home to the largest species of giant wētā, the mighty wētāpunga? 
Established by Butterfly Creek in 2009, the Captive Rear-and-Release Programme for the wētāpunga has played a vital role in securing a safe future for this endangered species. No longer found on the mainland and active mostly at night, most New Zealanders will never get a chance to see to see this weird and wonderful native species, but you can at Butterfly Creek. Butterfly Creek has committed significant resources to animal conservation including wētāpunga, brown kiwi and other endangered species as part of established conservation programmes. Find out more about some of our great conservation work below.
Butterfly Creek – Home of the Giant Wētāpunga
In 2009 Butterfly Creek established the Wētāpunga Captive Rear and Release Programme. This ground-breaking, privately financed initiative ensured that for the first time ever, this threatened species could be bred in captivity before being released into a select number of suitable habitats.
Wētāpunga were once found on the mainland throughout Auckland and Northland, however due to massive habitat loss and predation they became restricted to Little Barrier Island. The team at Butterfly Creek, along with the Department of Conservation have been doing their bit to help build up populations of this amazing insect.
In 2012, Butterfly Creek staff helped train Auckland Zoo staff so that they could also participate in securing a safe future for the wētāpunga.  We have since educated other zoos on best practice. Since Butterfly Creek started the wētāpunga breeding programme, a large number of the species have successfully been released onto Tiritiri Matangi and Motuora Islands, and Tāwharanui and Shakespear Regional Parks.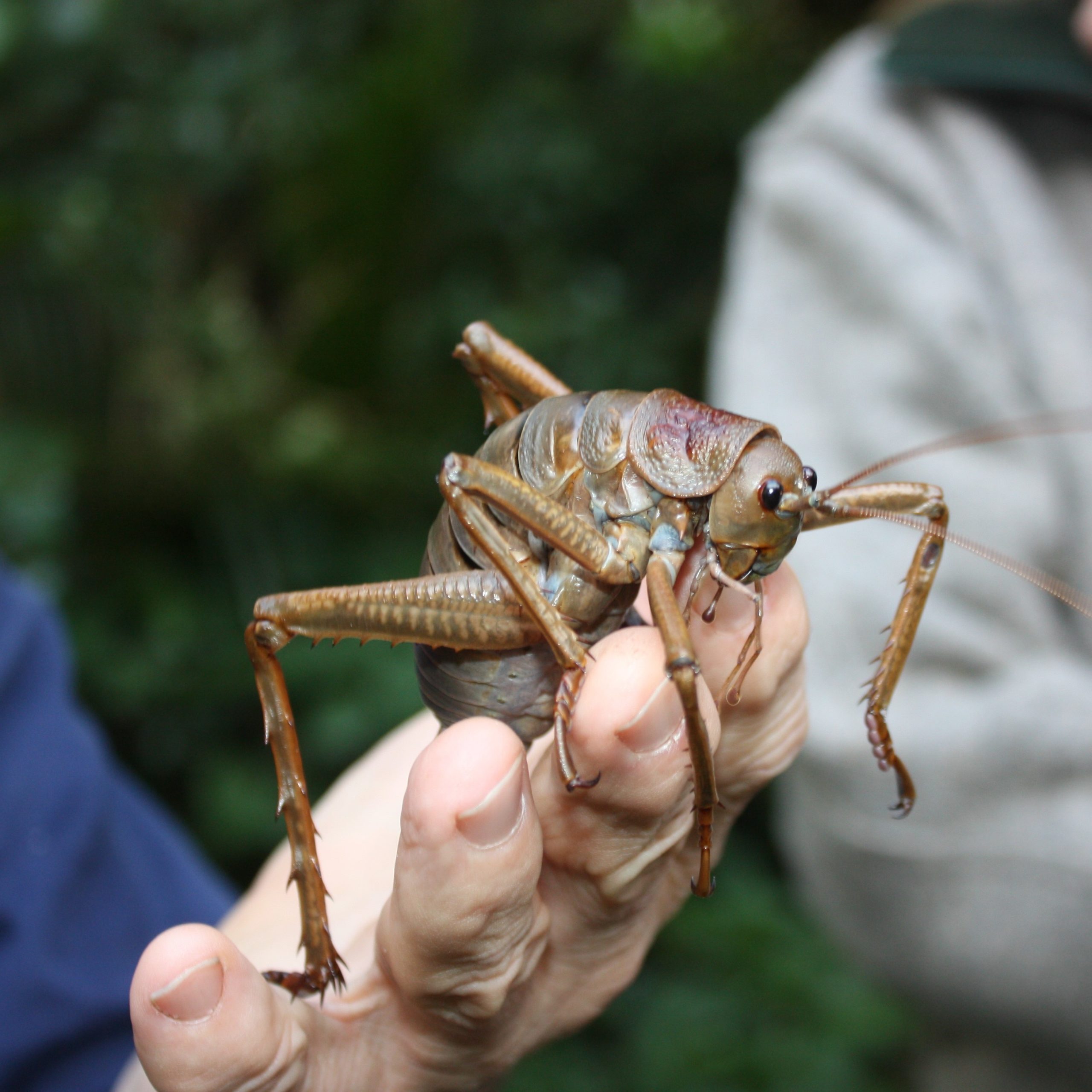 Butterfly Creek, with it's strong focus on meaningful conversation is an active participant and contributor to the conservation programme for brown kiwi.
In 2017 Butterfly Creek opened Kiwi Forest, our New Zealand native area, the flagship exhibit being a state-of-the art kiwi nocturnal house. The house provides a superb nocturnal environment catering to every need of our two brown kiwi. The heavily planted exhibit boasts a highly advanced lighting system in a temperature-controlled environment, contributing to a wonderful night forest environment for them to exhibit their natural behaviour.
The two kiwi at Butterfly Creek are part of the nationwide captive population of brown kiwi. Young kiwi arrive at Butterfly Creek where they then spend 2 or 3 years maturing into adults. When able to fend for themselves, they are then released into a suitable 'wild' habitat.
Whilst at Butterfly Creek they provide an excellent educational experience for visitors who not only have an opportunity to see kiwi, but also to learn about how special they are and how important it is to safeguard their future.
Searching Availability...
Searching Availability...